Share Your DEPLIN® Success
Your success story can help people who are still struggling with depression. Share your story and help others discover the DEPLIN® difference.
Thank you for submitting your story. We hope your experience will help inspire others.
Please fill out the information below to submit your success story.
By submitting this information, I hereby give Alfasigma USA, Inc. authorization to release, reproduce, use or distribute information about me, in original or modified form, for promotional and educational purposes in all forms of media, including print, broadcast or Internet. This information may include my medical information if I choose to submit any. I understand my information may be shared with a third party working on Alfasigma USA, Inc.'s behalf for promotional or educational purposes. I also understand that I may be contacted by this third party or Alfasigma USA, Inc. for more information.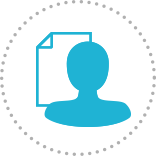 Learn about depression, DEPLIN®, and more.